F1 Tech Talk with Guenther Steiner
Data as key to success
Learn what the FIA Environmental Accreditation Program is, and why both Haas F1 and Formula One take carbon reduction so seriously.
Register now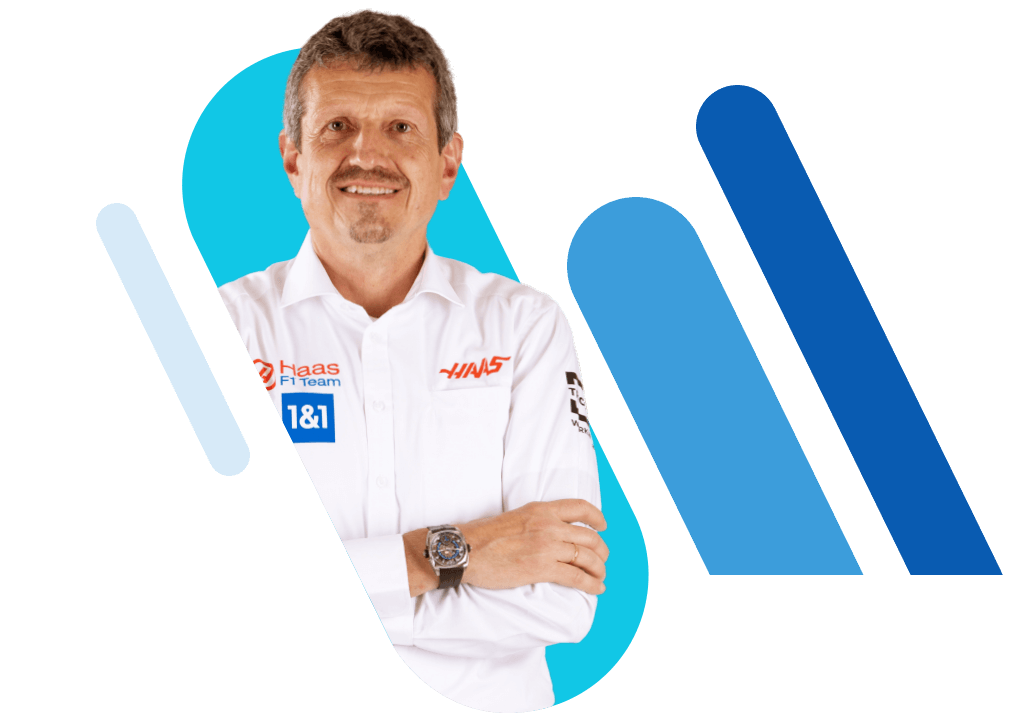 F1 Tech Talk with Guenther Steiner
Data as key to success
Thursday, November, 3rd, 2022 10:30 - 11:15 am EST
Both Haas F1 Team and Formula One are on a journey together to both understand, and reduce their impact on the environment. Working towards level three, the highest grade on the FIA's Environmental Accreditation Program, Haas F1 is evaluating and understanding its carbon footprint and prioritising a number of initiatives to reduce it. One example of this is the steady migration of high intensity compute workloads from their on-premise datacentres to IONOS cloud. By removing the need to power, cool and maintain compute themselves, they are able to leverage the efficiency and dynamic nature of the public cloud which for maximum positive impact.
Your key take aways of the F1 Tech Talk:
Learn what the FIA Environmental Accreditation Program is, and why both Haas F1 and Formula One take carbon reduction so seriously
Learn what Haas F1 is doing to achieve level three accreditation (the highest available)
Learn how utilising the public cloud can have a positive environmental impact for all organisations
Learn what Haas F1 is doing in the cloud, what's on the horizon, and how these initiatives drives both performance on-track, as well as assisting our sustainability targets
Thank you for your interest in our Tech Talk with Günther Steiner.
The registration confirmation and the participation link will be sent to the email address you provided in a few moments. In addition, you will receive further reminder emails shortly before the Tech Talk. If this is not the case, please check your spam folder.Your IONOS team
Speaker
Guenther Steiner
Team Principal Haas F1 Team
Guenther Steiner began his professional career in rallying, where in 1986 he joined Mazda Rally Team Europe as a mechanic and moved on to assistant team manager when he joined Top Run Srl in January 1989.
Steiner moved to Banbury, Oxfordshire, U.K., in 1997 to join Prodrive as the team manager for its Allstar Rally Team. Steiner led the new team to the European Championship in just its first season.
After his one year with Prodrive, Steiner was recruited to join M-Sport in Millbrook, Bedfordshire, U.K., as the project manager for the team's Ford Focus fleet that competed in the World Rally Championship.
Following the 1999 World Rally Championship, Steiner was promoted to director of engineering for M-Sport.
Steiner's managerial and technical talent caught the eye of Formula One champion Niki Lauda, who recruited him to join Jaguar Racing as the team's managing director in 2001.
Another Formula One opportunity was presented to Steiner in February 2005 when he joined Red Bull Racing as the technical operations director.
As Red Bull Racing got up and running and moved in a positive direction, Steiner was shifted to another Red Bull Racing project – the formation of a new NASCAR Cup Series team in Mooresville, North Carolina.
Steiner left Team Red Bull in April 2008 but remained in Mooresville. He founded FibreWorks Composites in January 2009, where the high-tech carbon-composites design and manufacturing company specializes in racecar development.
When Gene Haas began exploring the logistics of creating a Formula One team, he tabbed Steiner to lead the effort. The man who had been building throughout his racing career was in charge of building the first American-led Formula One team since 1986 in the role of team principal. The outfit debuted in 2016 and Steiner delivered. Haas F1 Team finished its inaugural season eighth in the constructor standings with a total of 29 points, the most of any new team in this millennium.