Analyst Reports
Celebrating IONOS Cloud as a multiple award winner:
- Cloud Spectator Benchmarks 2020
- Crisp Vendor Universe
Comprehensive reports about public cloud & IaaS
Our independent reports provide simple, but in-depth intelligence on cloud-based IT infrastructures.
Cloud Spectator Benchmarks 2020
Cloud Compute and Storage Performance Analysis
IONOS Cloud Compute Engine compared to AWS, GCE and Azure
Cloud Spectator, a US company who specialises in consulting and benchmarking cloud computing, has put the largest cloud providers to the test. Between July and August 2020, the Cloud Spectator testers compared solutions from IONOS Cloud, AWS, Google Compute Engine and Microsoft Azure. Key results for IONOS Cloud:
Up to 70% faster computing
100% more performance
IONOS Cloud SSD storage up to 4x faster than Azure & AWS
Extract from the report
"IONOS Cloud offers excellent compute and storage performance compared to the larger cloud providers tested in this study. IONOS Cloud also offers truly supreme value when it comes to the performance you get per EURO spent."
Read Cloud Spectator Benchmark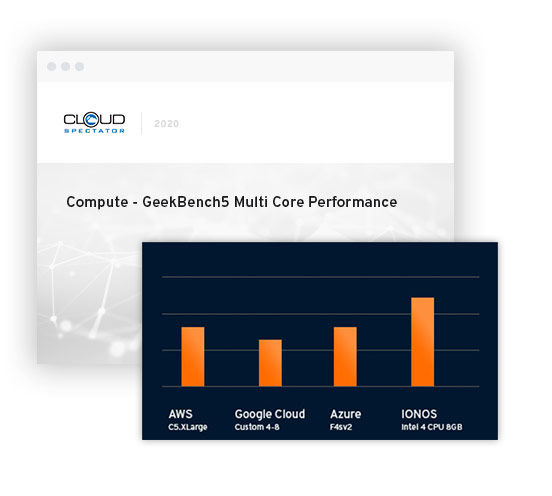 Report 2018
Crisp Vendor Universe
Accelerator in the Cloud Platforms category
Among other things, experts believe this is due to the following factors:
IaaS operation in Germany with strong data privacy protection
Extremely strict data privacy and security requirements
Excellent transparency and customer centricity with helpful and knowledgeable contact partners
Comprehensive range of public cloud IaaS and PaaS features and dedicated cloud servers from the IONOS Cloud portfolio
Extract from the report
"With its portfolio of powerful and cost-efficient Iaas & PaaS offerings, IONOS is one of the accelerators in the cloud platform environment.
Read the full report