Success Story – DevOps
Agile software development in the public cloud
Tailored IT resources delivered to the right team at the right time
Agile strategies are extremely popular as they have the potential to make software development faster and more efficient. Adding flexibly scalable IT resources from a cloud platform creates a highly versatile base structure that allows an agile cooperation to take place within teams. The service provider //SEIBERT/MEDIA (Seibert) applies this principle rigorously and offers its customers development, collaboration, intranet and other systems that support agile cooperation. Seibert required an infrastructure service provider from Germany to deliver hosted solutions to its expanding customer base and to ensure full compliance with the strict data privacy laws in Germany, without the need for further expanding its own data centre. Seibert ultimately decided on IONOS by 1&1.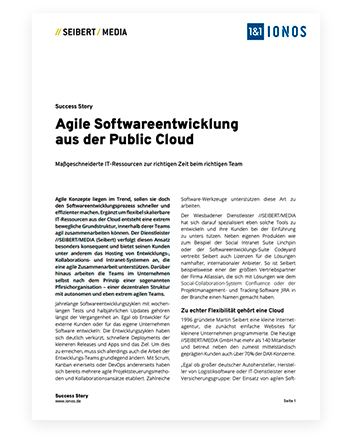 "IONOS by 1&1 maintains a very open style of communication, for instance regarding the new features of the Data Center Designer, the product roadmap, or planned improvements to the APIs. We place a great amount of stock in this transparency."
Rico UllmannTechnical Consultant at //SEIBERT/MEDIA
Start your 30-day free, no obligation trial
Free24/7 SysAdmin support
Do you have any questions about DevOps solutions with the Compute Engine?
Would you like to clear up any questions in a personal consultation? We'll get back to you during our business hours: Mon–Fri, 9:00 am–6:00 pm