Success Story – IaaS
An ePaper that never sleeps
Innovative, cloud-based digital publishing technologies from Berlin
Even major publishers have trouble ensuring the effective management and monetization of digital editorial content. The Sternwald Group, a Berlin-based service provider for digital publishing, has specialized in finding solutions for this problem. Everything revolves around the proprietary digital asset management system huGO, which is driven by the IONOS Compute Engine.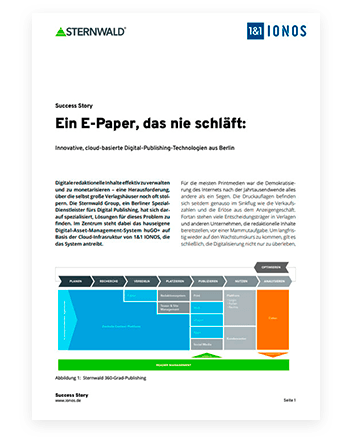 "1&1 gives us the scalability, security and performance we need to accept jobs that previously we would have been forced to turn down."
Bastian MetzProject Manager and Team Leader IT at Sternwald

Start your 30-day free, no obligation trial
Free24/7 SysAdmin support
Do you have any questions about IaaS solutions with the Compute Engine?
Would you like to clear up any questions in a personal consultation?
We'll get back to you during our business hours: Mon–Fri, 9:00 am–6:00 pm