Success Story – SaaS
Data privacy as a sales argument
FinTech pioneer scales its SaaS application with IONOS by 1&1
The financial and insurance industries now belong to the most highly digitized sectors worldwide. Be it real-time data management, global transactions, or digital customer support — modern business hinges on FinTech software. This software must satisfy extremely strict data privacy standards — far exceeding those of the EU GDPR. The German FinTech pioneers at FACT AG are living proof that the cloud and data privacy are a natural fit with the release of their specialist software as an SaaS solution on the IONOS Compute Engine.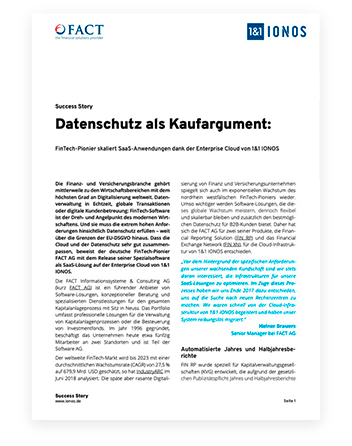 "The Data Center Designer is an excellent, reliable tool to manage our virtual data centers. Visualization also helps to stay on top of complex infrastructures."
Heiner BrauersSenior Manager at FACT AG

Start your 30-day free, no obligation trial
Free24/7 SysAdmin support
Do you have any questions about SaaS solutions with the IONOS Compute Engine?
Would you like to clear up any questions in a personal consultation? We'll get back to you during our business hours: Mon–Fri, 9:00 am–6:00 pm