Do you have any questions about DevOps solutions with the Compute Engine?
Would you like to clear up any questions in a personal consultation?
We'll get back to you during our business hours: Mon–Fri, 9:00 am–6:00 pm
Success Story – DevOps
Pioneering mobility with an agile IT team
How digital business models benefit from managed DevOps services in the public cloud
Agility and DevOps are frequently cited buzzwords that are associated with great expectations. The collaboration between the startup myDriver — the limousine service venture by Sixt SE — and the service providers IONOS by 1&1 and Centrias Colocation demonstrates how these two methods are implemented in practice.
Startups frequently prefer a lean approach to IT provisioning: As little IT as possible to avoid wasting resources that would be better invested in product development. Cloud computing offers the perfect solution, and myDriver picked IONOS by 1&1 as its infrastructure provider. The individual IT components run in data centers operated by the cloud specialist from Berlin.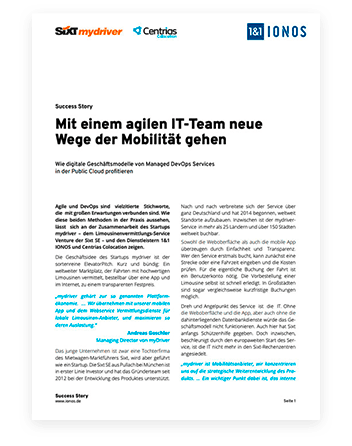 "The simple configuration of the servers and development systems were particularly convincing for us."
Thomas ReisCTO von myDriver
Start your 30-day free, no obligation trial
Free24/7 SysAdmin support